Our Story
We live hectic lives. Those of us who are moms are more than just "Moms". We are everything to our families- not limited to being a provider, caretaker, confidant, prayer warrior, cook, cleaner, and driver.
Our superpower is motherhood! We are here to meet every need and rescue our loved ones whenever we can. But even superheroes need a reset to recharge.
I have learned over the years that self-care is such an essential part of our well being. Yes, I am guilty of not putting myself first on my list but I have had to learn that if I never put myself first I will not be presenting the best version of me. I have had to learn that self-care is important for me to be the best mom to Leo.
What I have also learned, is self-care doesn't have to be elaborate, it can be as simple as putting on a dress that makes you feel great or taking a nice bath that gives the much-needed me time. I encourage you to include a practice of self-care into your regular routine. I started Soul Balm Sisters with my sisters as a way for us to share the importance of self-care.
I practice many forms of self-care but my favorite form of self-care is connecting with my friends. Connecting with friends can be just the recharge we need to get us through our day, week or month. Behind every great woman is the support of her girls. Thank you for joining the #soultribe.
Be blessed.
Wahne,
Soul Balm Sisters
---
All of our products are
All of our products are made by hand!
All of our products are made with only the finest ingredients!
All of our products are made in the U.S.A!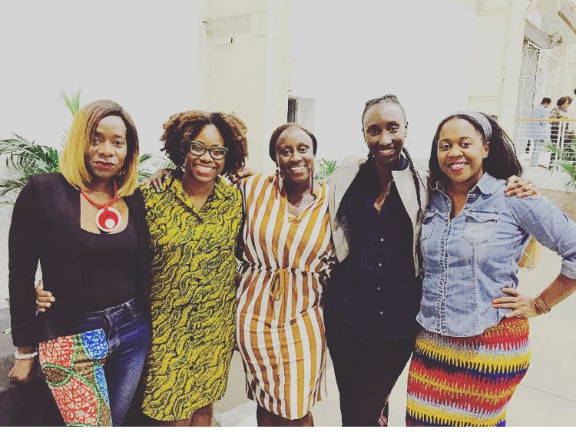 My tribe is everything! Me and my Liberian sisters in entrepreneurialship at Essence Street Style. Brooklyn, NY
Siatta Jeans
Sukoka Betty
Sarep and Rose
Soul Balm Sister
Afropolitan